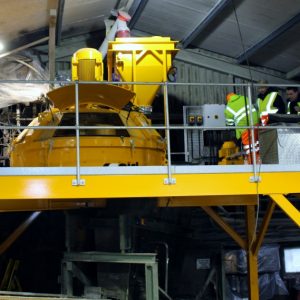 County Armagh, Northern Ireland, 30 March 2017 – Rapid International Ltd (County Armagh) has recently supplied Northern Ireland based Lagan Tile with a new RP1000 Rapid Planetary Concrete Mixer. The concrete mixer was specified due to its high capacity and increased levels of energy efficiency.  The new concrete mixer has been installed in Lagan Tile's concrete roof tile production plant located in Lisburn, County Antrim.
Lagan Tile began producing concrete roof tiles in 1995 at a purpose built factory near Lisburn in County Antrim, Northern Ireland. Since then, the company has grown from strength to strength, supplying customers in all sectors of the building industry in the UK and Ireland with quality products.
Lagan Tile is a division of Lagan Products, which manufactures a comprehensive range of high quality building products for the UK and Irish construction industry, including, roof tiles, cement products, readymix concrete and blocks, bricks, sand, chimney and clay products.  Lagan Products is one of seven divisions of the Lagan Group.  Established in 1962, the family owned Lagan Group is one of the largest privately owned companies in Ireland, employing over 1,000 people with a turnover in excess of £350 million. From roads to runways, construction materials to civil engineering, Lagan Group operates worldwide in a diverse array of sectors constantly driven by its vision to build brighter futures.
As a prior customer of Rapid, Lagan were confident in their decision to purchase the RP1000 Rapid Planetary Concrete Mixer as a solution to their requirements for higher capacities and increased levels of energy efficiency. The mixer was supplied in partnership with Concrete Batching Systems, who designed, manufactured and carried out the full mechanical installation and integration of the Rapid Mixer, providing Lagan Tile with their specified concrete mixing plant upgrade.
Commenting on their concrete mixer purchase, Lagan stated that they are "…very happy with it in terms of reliability and production, it has integrated very well into our manufacturing processes." They further added, "We found the service from Rapid to be excellent, when we have needed support there has always been someone to help us.  We had the usual teething issues at the start of the project but Rapid helped us resolve them quickly."
John Pickering, Sales Manager – Rapid, commented, "We were delighted that Andy and his team at Lagan chose to go with Rapid.  Reliability was imperative to Lagan in order to support their 24 hour production schedule.  Rapid became the clear choice for Lagan and we were happy to be able to provide a reliable solution that can meet the 24/7 production that they require."
The Rapid RP1000 Planetary concrete mixer is capable of producing output batches of 1.0m3 and is ideal for smaller outputs, precast products and semi-dry coloured concrete. The Rapid Planetary's star mixing action comprises of up to three rotating mixing stars, with each star consisting of two rotating mixer paddles. This unique mixing action ensures fully homogenised concrete. The RP1000's standard features include: durable chill cast tiles, wear sleeves, paddles and heavy duty discharge door mechanisms. Safety concerns are mitigated with spring tensioned mixing arms.  The mixer is complete with an up-rated gearbox, supplied by a specialist gearbox manufacturer.
###
Notes to the Editor:
 Rapid International Ltd
 Established in 1969, County Armagh based Rapid International delivers high quality, reliable equipment to the concrete, construction and environmental industries. Today, with a presence in more than twenty countries worldwide via an ever expanding international dealer network, Rapid is a trusted partner to a wide variety of customers ranging from multinational construction groups to small concrete producers.
 RAPID IS A GLOBAL LEADER IN THE MANUFACTURING OF:
Pan, Planetary and Twin Shaft Concrete Mixers
Mobile Continuous Mixing Plant/Pugmills
Specialised Mobile Continuous Mixing Plant
Mobile/Fixed/Bespoke/Compact Batching Plants
High Pressure Mixer Washout Systems
Silos
Spare Parts
 Rapid's vast experience over the last four decades ensures the highest quality design and manufacture of all equipment. Quality, reliability, efficiency and technological advancement are the greatest aims of Rapid's workforce, based at its impressive 50,000 sq ft production facility and headquarters in County Armagh, Northern Ireland. Always innovating, Rapid's emphasis on product development is driven by the needs of its wide reaching customer base, and the company's in-house technical team consistently strive to meet the demands of total quality while exceeding customers' expectations.
Contact Details:
Address: Rapid International Ltd, 96 Mullavilly Road, Portadown, Co Armagh. BT62 2LX
Telephone: 028 38 840671
PR Contact: Kelly McCollum
Email: marketing@rapidinternational.com
Website: www.rapidinternational.com