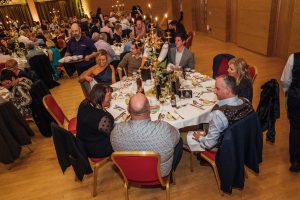 In celebration of 50 years in business, Rapid hosted a gala dinner fundraiser at Craigavon Civic Centre, County Armagh on Friday 22 November 2019. The proceeds raised on the evening will benefit both Marie Curie Cancer Care and Macmillan Cancer Support.
The evening was an opportunity to celebrate Rapid's achievements over the last 50 years and to sincerely thank all staff, suppliers and customers, past and present, for their contributions.
The black & gold themed gala was attended by 175 guests of Rapid, including staff, friends, family, customers and suppliers. Guests were treated to a drinks reception accompanied by live harpist, followed by a five-course gala dinner. Diners were entertained with a superbly talented singing waitress and live music by The Moonlights. The evening was concluded with a speech, video presentation and raffle delivered by John Pickering, Operations Executive and son of Rapid's co-founder Bertie Pickering.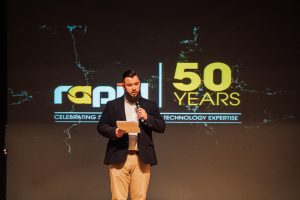 The final total is to be confirmed, as donations are still being received, but it currently stands at just short of £10,000.
Rapid Managing Director, Mark Lappin, was delighted with the evening's success, commenting:
"It was important to celebrate this monumental milestone and show our gratitude to those individuals and companies who have supported us on our journey so far. We are thrilled to have raised almost £10,000 to date for two very worthy charities, close to all our hearts. This is an amazing achievement and demonstrates the generosity of our loyal staff, suppliers and customers. We wish to thank all those who attended, donated and sent their kind wishes."
Specials thanks to the following sponsors, for their generous donations:
Anchor Engineering
Arolco Ltd
Clearway Disposals
Dalzells (Markethill)
Fyfes Vehicle & Engineering Supplies
Glenn Irwin Racing
Haldane Fisher (Portadown)
Hasting Hotel Group
McComb Engineering
Modern Machinery Supplies
NMT International Shipping UK Ltd
Ramsey Fuels
Ray McCall
Rory Best Rugby Ltd
Smyth & Cleaver Foodhall (Portadown)
Walter Watson Ltd