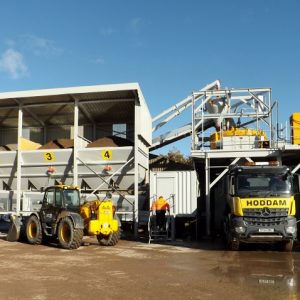 County Armagh, Northern Ireland, 25 August 2016 – Rapid International Ltd (County Armagh) has recently supplied Scotland based Hoddam Contracting Co. Ltd with a newly updated Rapid 90B static concrete batching plant, capable of producing outputs up to 70 m3 per hour (continuously). The static concrete plant is located at the company's Ecclefechan site and is employed in the production of ready mix concrete and concrete block making.
Established in 1958, privately owned Hoddam Contracting Co. Ltd is the largest concrete block manufacturer in South West Scotland. The company operates two sand and gravel quarries in Southern Scotland and a third site at Ecclefechan, comprising of its concrete production and head office facilities. Hoddam Contracting produces a wide range of aggregate and concrete products, including, washed sand and gravels, sub bases, ready mixed concrete, concrete blocks, concrete paving and kerbs. Hoddam Contracting began manufacturing concrete blocks in the 1960s and now supplies throughout Scotland and the North of England. The company initially began manufacturing blocks using a mobile plant but have since progressed to the use of a modern static concrete batching plant plant.
 As a prior customer, Hoddam Contracting were confident in their decision to select Rapid to update their previous static plant. The company's previous plant had reached the stage where it was requiring regular maintenance, so the decision was made to upgrade to a more modern, cost effective solution. Enter Rapid, who three years prior had supplied Hoddam Contracting with two new cement silos. Pleased with Rapid's workmanship Hoddam Contracting selected Rapid for the static plant update.
Rapid updated every aspect of the plant, with the exception of the recently supplied silos as previously mentioned. The extensive upgrade work comprised of an almost entirely new plant replacement, including bins, weigh belts, mixer platform, an R3000 Rapid pan mixer, CWH water weigher and PIL control system.  Rapid worked closely with Hoddam Contracting at each stage of the process, troubleshooting any issues, to ensure that the plant was installed and running to their absolute satisfaction.
Rapid's static batch plant range is specifically designed for ready mixed concrete and precast producers. Each plant is supplied pre-wired and in modular sections, minimising site installation. Erection and commissioning of the plant can occur in as little as 3 days. Fitted with a Rapid R3000 pan mixer, giving an output of 3m3 per batch, the Rapidmix 90B offers the potential for readymix, block or precast production from a single plant. The Rapid 90B is capable of achieving outputs of up to 70 m3 per hour in continuous production.
Rapid's mixing technology expertise spans almost 50 years. The company manufactures a comprehensive range of pan, planetary and twin shaft concrete mixers, mobile continuous mixing plant and mobile and static batching plant. Each Rapid machine is produced in its 50,000 square foot purpose built factory. The company takes great pride in its manufacturing capabilities, which incorporates lean manufacturing, and possesses the latest, most technologically advanced equipment. Quality and longevity are at the very heart of Rapid's machinery.
Commenting on their purchase, Peter Murray, Operations Manager – Hoddam Contracting Co said, "Having previously dealt with Rapid on a couple of smaller projects and been very happy with the service and quality they delivered, it was difficult to go past them when we were considering the new plant. The guys are very efficient and easy to deal with and our new plant is far quicker and more advanced than what we had previously."
Jarlath Gilmore, Sales and Marketing Director – Rapid, remarked, "We are delighted to work again with Hoddam and appreciate that based on previous experience they have chosen Rapid for the new project. Rapid focus on manufacturing plant that will deliver performance in-line with customers' requests and are proud of the customer support we provide to back this up, making our customers come back again and again. We wish Peter and his team well with the new plant as the Hoddam business continues to increase and expand."
 ###
Notes to the Editor:
 Rapid International Ltd
 Established in 1969, County Armagh based Rapid International delivers high quality, reliable equipment to the concrete, construction and environmental industries. Today, with a presence in more than twenty countries worldwide via an ever expanding international dealer network, Rapid is a trusted partner to a wide variety of customers ranging from multinational construction groups to small concrete producers.
 RAPID IS A GLOBAL LEADER IN THE MANUFACTURING OF:
Pan, Planetary and Twin Shaft Concrete Mixers
Mobile Continuous Mixing Plant/Pugmills
Specialised Mobile Continuous Mixing Plant
Mobile/Fixed/Bespoke/Compact Batching Plants
High Pressure Mixer Washout Systems
Silos
Spare Parts
 Rapid's vast experience over the last four decades ensures the highest quality design and manufacture of all equipment. Quality, reliability, efficiency and technological advancement are the greatest aims of Rapid's workforce, based at its impressive 50,000 sq ft production facility and headquarters in County Armagh, Northern Ireland. Always innovating, Rapid's emphasis on product development is driven by the needs of its wide reaching customer base, and the company's in-house technical team consistently strive to meet the demands of total quality while exceeding customers' expectations.
Contact Details:
Address: Rapid International Ltd, 96 Mullavilly Road, Portadown, Co Armagh. BT62 2LX
Telephone: 028 38 840671
PR Contact: Kelly McCollum
Email: marketing@rapidinternational.com
Website: www.rapidinternational.com
Hoddam Contracting Co. Ltd
Contact Details:
Address: Hoddam Contracting Co. Ltd, Hoddam Road, Ecclefechan, Lockerbie. DG11 3BY.
Telephone: +44 (0) 1576 300 279
PR Contact: Laura Gilfillan
Email: enquiries@hoddacrete.co.uk
Website: www.hoddamcontracting.co.uk