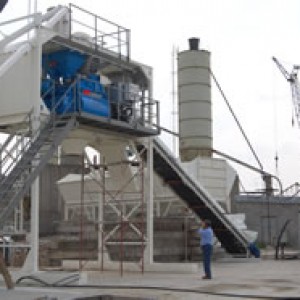 Rapid International, have recently started to supply concrete mixer washout systems into the Romanian market, in partnership with the Powertek Group. These machines fit neatly into their newly launched mobile concrete plant due to their compact and self-contained design features.
Rapid International is recognised as one of the world's leading manufacturers of pan, planetary and twin shaft concrete mixers. Several years ago, having identified a more cost-effective cleaning solution to accompany these mixers, the company set about designing and developing their own washout system to suit the requirements of the batching plant owners.  This has now evolved into 3 models – the RJW2 (2 pump system), RJW3 (3 pump system) and RJW4 (4 pump system).
The Powertek Group are a distributor of recognised concrete, asphalt and construction equipment throughout Romania, Bulgaria and Moldavia.
An RJW2, 2 pump washout system has recently been fitted with a Twinshaft mixer on Powertek's mobile concrete batching plant (60 m2/h capacity). Andrei STANCIU, in charge of the Romanian project says:
 "We've selected the Rapid International wash-out system because the washing heads from this wash-out system fitted perfect into our compact designed plant and also because we've worked closely with the Rapid International technical team, who helped us obtain a good solution, somewhat custom made for our plant."
These washout systems are proving extremely popular with batching plant manufacturers due to their time saving features. With one washout cycle, taking just 4 minutes, this results in an increase in the mixer production time and serious reductions in downtime. It also minimises the safety risks as the Jetwash system reduces the need for employees cleaning inside the mixer.
Time is not the only saving with the Jetwash system. Using this powerful system, batching plant owners can save money on having to change mixer parts frequently. The washout system prevents a build-up of concrete and damage to the components. It also ensures overall reduced wear with the mixer, giving it a longer life span.
With the RJW2 model for Twinshaft mixers, the RJW3 model for pan and planetary mixers and the RJW4 model for 4m3mixers and above – there are several options to suit customer's requirements when choosing a mixer washout system.
Notes for Editor:
Rapid International Ltd is recognised as one of the world's leading manufacturers of:
Concrete Pan Mixers
Planetary Mixers
Twin Shaft Mixers
Mobile Continuous Mixing Plants
Mobile Batching Plants
Bespoke Batching Plants and
Mixer Washout Systems.
Their customer base not only includes local businesses but also most of the major global concrete manufacturers.
They supply equipment to the concrete industry, environmental industry and construction industry.
Constant improvement in quality, design, manufacturing methods and productivity is the aim and responsibility of all at Rapid International.