Dealer Spotlight – Dave Humphrey Enterprises (DHE), Inc.
At Rapid, we're proud to have a loyal and dedicated dealer network operating across the globe. Our dealers are committed to providing bespoke mixing technology solutions and after sales support to Rapid customers, no matter the application or location. Read on to discover how Dave Humphrey Enterprises (DHE), Inc, located in California, USA, offers turn key concrete equipment solutions for its customers.
About Dave Humphrey Enterprises (DHE), Inc.
Veteran-founded and family-owned, Dave Humphrey Enterprises, Inc. (DHE) has been in operation since 1979, supplying the Western US construction materials industry with performance-based solutions and services. Solutions and services that have resulted in long-lasting relationships and documented results. Some examples of our past projects can be found here.
Authorized Western US dealer – Rapid concrete mixers & Rapidmix mobile continuous mixing plants
DHE, Inc. is Rapid International's authorized dealer for the Western US, supplying Rapid concrete mixers and Rapidmix mobile continuous mixing plants (pugmills). Our primary industry targets are producers of concrete (precast and readymix) and cement treated products (RCC and CTB). Rapid International's reputation for product durability and innovation fits our company's focus well. With several precast customers utilizing Rapid Pan Mixers in operation (some installed by our erection team), and a range of customers utilizing Rapidmix mobile continuous mixing plants, Rapid's product line has served and continues to serve our customers well.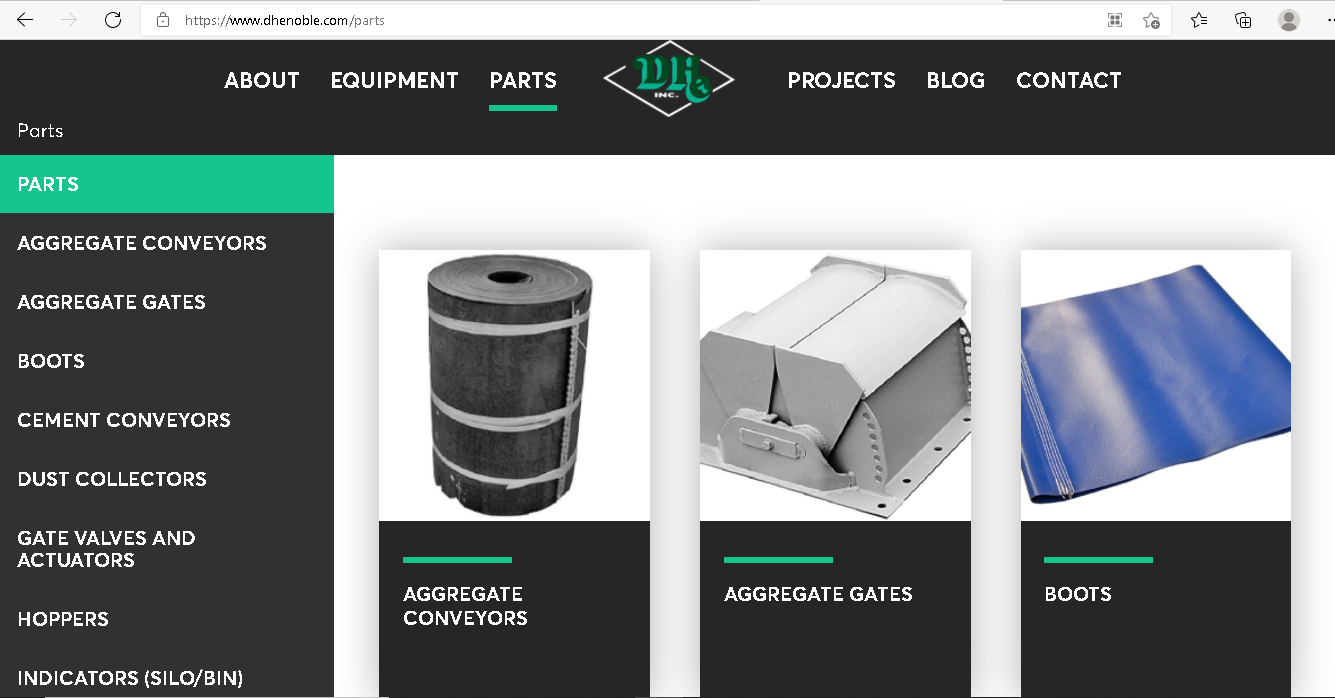 Online spare parts
In addition to supplying equipment, DHE, Inc. stocks a wide range of parts in our parts warehouse, located in Tracy CA. We recently just created our online parts store to allow customers to shop for parts at any time, and submit orders without picking up the phone.
In addition to our parts warehouse, we have a 4 acre manufacturing shop, producing a range of equipment from slump racks to cement scales. Further, we offer a range of services including installation/erection, plant reviews, and more.
Meet the team – a wealth of experience
Scott Humphrey is the owner and president and has been serving the industry for over 35 years. Scott is an active industry patron and supports future industry growth through support of local industry associations and the Concrete Industry Management (CIM) program at CSU, Chico. Scott H. lives in Central CA and covers our northern and eastern territories. Scott H. can be reached at shumphrey@dhenoble.com.
Rounding out the sales team are Cody Stauffer and Scott Baker. Scott Baker comes from the steel industry with extensive knowledge and experience in fabrication, drafting, and concrete paving equipment. Scott B. lives in Central CA and covers our northwestern territory. Scott B. can be reached at sbaker@dhenoble.com.
Cody Stauffer is a recent graduate of the CIM program at CSU, Chico and lives in Arizona, where he covers DHE's southwest territory. Cody has recently joined the Arizona Rock Products Association (ARPA) to further his knowledge of the local industry. Cody can be reached at cstauffer@dhenoble.com.
Jason Monteiro manages our manufacturing shop and installation/erection teams. Our manufacturing shop is where we produce our slump racks, cement transfer systems, portable silos, and more! Jason is directly responsible for our success on massive projects like this one.
Bonnie Gayler manages and operates our parts warehouse and is directly responsible for ensuring our customer base gets what they need, when they need it. Communication daily with the sales team allows Bonnie and DHE to keep up with new industry trends and changing customer needs.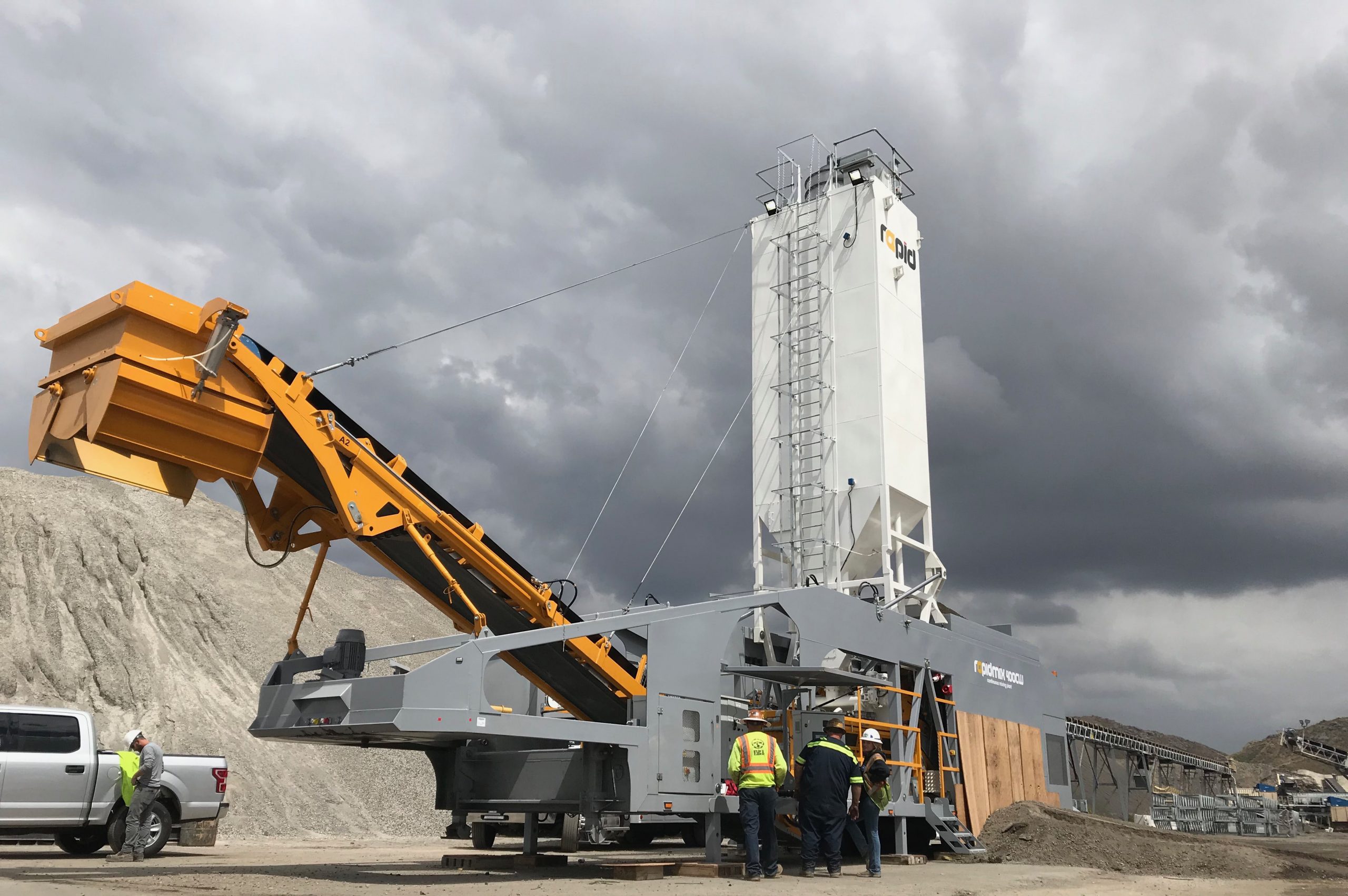 Featured DHE, Inc. project: Pavement Recycling Systems – RCC & CTB at Port of Long Beach Middle Harbor Redevelopment Project
DHE, Inc, recently supplied and commissioned a Rapidmix 400CW, fully weighed, mobile continuous mixing plant (pugmill) for Pavement Recycling Systems. The new Rapidmix is being utilised initially for the production of RCC (roller compacted concrete) for the Port of Long Beach Middle Harbor Redevelopment Project. The Rapidmix will also be involved in the production of RCC and various other materials for future projects across California and other Western US States.
Rapidmix 400CW Mobile Continuous Mixing Plant
The Rapidmix mobile continuous mixing plant is completely self-contained and  portable and capable of 400 tons per hour continuous production capacity. Powered by a Volvo tier 4 generator, no outside power is necessary. Hydraulic self-erect allows the entire plant to be erected and ready to produce within hours. By the end of the first day, we had the plant erected, calibrated, and mixing.
Versatility
Rapidmix can handle a wide range of job required applications. From roller-compacted-concrete to cement-treated-base, the Rapidmix can switch effortlessly between its stored recipes with the touch of a button. Have a specialty material? The machine can be configured to fit your needs. This machine was designed for a unique material. Pavement Recycling Systems added the ability to supply a third-party bitumen pump for asphalt recycling.
Quality of Life
Quality of life for operators is a major priority for Rapid International. That's why the Rapidmix has a clean out conveyor for the mixing chamber, hydraulic side doors for mixing chamber clean out, touch panel controls with remote laptop included. Allen Bradley PLC controls the plant through a user-friendly touch screen. Within two days DHE, Inc. had the entire crew running production through the plant, creating new mix recipes, and troubleshooting plant alarms.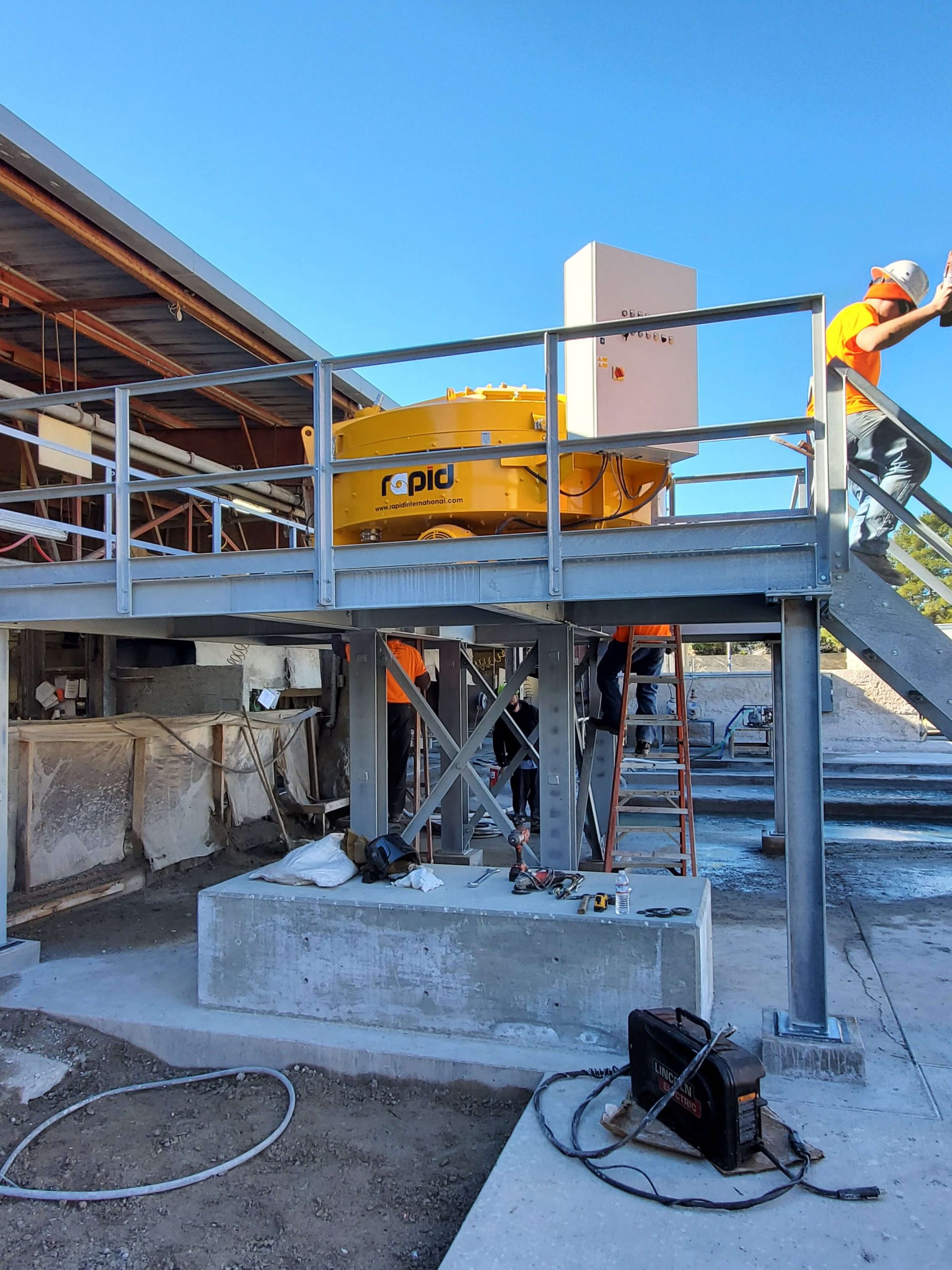 Featured DHE, Inc. project: new concrete batch plant with Rapid R1000 pan concrete mixer
DHE, Inc. recently replaced a 40 year old facility with an all-new concrete batching plant solution. This system consists of a CON-E-CO LoPro 327D (Decumulative weighing) batch plant, a NOBLE 370bbl portable jobsite silo, and a Rapid International R1000 concrete pan mixer with Jetwash high pressure mixer washout system . This plant is controlled with COMMANDbatch batch automation software by Command Alkon.
This CON-E-CO LoPro 327D has 8 aggregate compartments, 327bbls (approx. 53 tons) of in-truss cement storage, metered water, mixer dust collection with automatic recycle, and much more.
The NOBLE 370 bbl silo stores approximately 60 tons of cement, and screw feeds into the batch plant cement scale.
The Rapid R1000 Concrete Pan Mixer has a 1.3 cubic yard output, and is equipped with optional Jetwash (2000 psi mixer washdown at the push of a button).
Contact DHE, Inc.
If you're located Western USA and would like to find out more about Rapid's mobile plant, concrete mixers or spare parts range, contact DHE, Inc. at 209.835.2222 or 1.800.4.DHEINC or visit: https://www.dhenoble.com