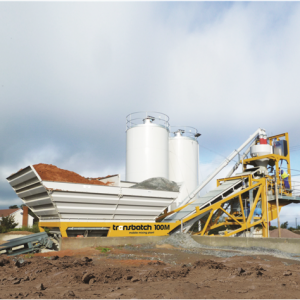 Norman Emerson & Sons Ltd, a leading Northern Irish supplier of construction materials that includes ready mixed concrete and quarry aggregates, were delighted to be the first customer to take ownership of the new Rapid Transbatch, compact mobile batching plant. The investment was in an effort to modernise their existing ready-mix production facilities at the company's site in Ardmore, County Armagh.
Tandragee, County Armagh, June 12 2013 – Rapid are pleased to have supplied Norman Emerson and Sons Ltd with their batching plant requirements for over forty years. The new Rapid Transbatch is in fact replacing the very first batching plant ever built by Rapid, which the company purchased over forty years ago. This relationship serves to highlight Rapid's long term commitment to quality engineering and absolute customer satisfaction.
Commenting on their purchase,  Group Managing Director George Emerson stated "Rapid's Transbatch has provided us with an excellent solution for our concrete batching requirements. Its high quality compact design, ease of mobility and fast set up has made it a superb choice. We are pleased to have yet again worked with Rapid and can attest to their professionalism and customer focused, can-do approach".
Transbatch is the culmination of Rapid's forty years of experience, and expands its celebrated existing portfolio of mobile batching solutions. Rapid's Transbatch compact mobile batching plant offers outputs of 40m3, 60m3 and 100m3 per hour. Fully mobile, the Transbatch features stairs and access walkways which fold and dismantle for transport in a single load road towable unit. Fast set up in as little as five days with no foundation requirements helps to ensure that project timescales are met.
As standard, Transbatch features four 10m3 aggregate bins with pneumatic discharge doors, a 1000mm weighing belt and a 1750kg cement weigh hopper with aeration and pneumatic vibrator. Transbatch includes a built in control room positioned at the truck loading area and an automatic control system with load cells, starter panel and pneumatics panel. Twin additive meters  with two pumps are also included with the plant, with the option to add extras if required.
The heart of the plant, Rapid's powerful in built Twin Shaft Mixer, which includes extra thick long wearing chill cast tiles and paddles ensures a thoroughly homogenized mix.  The Twin Shaft includes an easy to operate discharge door with two independent hydraulic rams.
Rapid's dedicated and experienced in house spares department  has the ability to provide Norman Emerson & Sons Ltd with all its wearing and replacement parts for the Transbatch, via a fast track service. High inventory levels and same day dispatch from stock on goods ordered before 11am (UK only) will ensure that the company's spare parts requirements are consistently met in a cost effective, timely and efficient manner.
As a result of its ease of mobility Transbatch is ideal for remote location projects and general construction projects such as, but not limited to, road building, wind farm bases and warehouse flooring.
Notes to the Editor:
Rapid International ltd was established in 1969 in County Armagh, Northern Ireland by Robert (Bertie) Pickering & Jim Lappin. The respective families still retain ownership to the present day. The company is considered one of the world's leading manufacturers of equipment for the concrete, construction and environmental industries, to include:
Pan, Planetary & Twin Shaft Concrete Mixers
Compact,  Mobile & Fixed Concrete Batching Plants
Mobile Continuous Mixing Plants
High Pressure Mixer Washout Systems
Contact Details:
Address: Rapid International Ltd, 96 Mullavilly Road, Portadown, Co Armagh. BT62 2LX
Telephone: 028 38 840671
PR Contact: Kelly McCollum
Email: marketing@rapidinternational.com
Website: www.rapidinternational.com