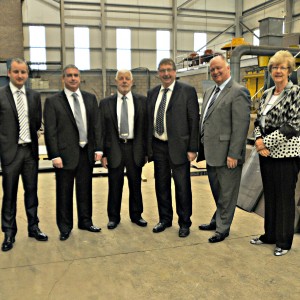 Pictured left, Minister Sammy Wilson MP and David Simpson MP along with members of Rapid International's Board of Directors during a recent visit to view progress on Rapid International's 10,000 sq ft factory extension. 
Rapid International Ltd, a renowned manufacturer of concrete, construction and environmental mixers and plant, recently hosted a visit from Minister Sammy Wilson MP and Mr David Simpson MP at its 40,000 sq ft head office and manufacturing facilities in Mullavilly.
The purpose of the visit was to highlight plans for a new 10,000 sq ft factory extension which will house a new paint booth and also to enlighten on Rapid's journey over the last forty years to become one of the world's leading manufacturers of concrete, construction and environmental equipment, with a presence in more than twenty countries worldwide.
Despite economic challenges, Rapid continues to seek out opportunities in new export markets. This dynamic approach has enabled the organisation to weather the storm of recent years and it is hoped will continue to assist the company in the achievement of  its growth targets in the years ahead.
Keen to reinforce it's commitment to excellence, Rapid has also recently embarked on a re-brand to reposition itself as a leader in quality in overseas markets.
Following the visit, the Member of Parliament for Upper Bann, David Simpson MP commented:
"It was indeed a privilege to visit Rapid International Limited I would like to congratulate them on their phenomenal success, their innovative thinking and their drive in creating new markets right across the globe.
Based on the outskirts of Portadown, Rapid International Ltd have been in business for some forty years and are forging ahead in the area of concrete machinery manufacturing. They are a tremendously innovative company who are regarded as the best in the industry.  Their obvious pride in their workmanship is a testament to the end product.  The company directors are confident that their exceptional success could not have been achieved without the excellent workforce they employ.  I wish them continued success for the  future."
###
Notes to the Editor:
Rapid International ltd was established in 1969 in County Armagh, Northern Ireland. Established by Mr Bertie Pickering & Mr Jim Lappin, the families still continue to retain ownership. The company is considered one of the world's leading manufacturers of equipment for the concrete, construction and environmental industries, to include:
Pan, Planetary & Twin Shaft Concrete Mixers
Compact, Mobile & Fixed Concrete Batching Plants
Mobile Continuous Mixing Plants
High Pressure Mixer Washout Systems
Contact Details:
Address: Rapid International Ltd, 96 Mullavilly Road, Portadown, Co Armagh. BT62 2LX
Telephone: 028 38 840671
Email: marketing@rapidinternational.com
Website: www.rapidinternational.com