New Rapid Concrete Batching Plant Doubles Outputs for Hoddam Contracting Co. Ltd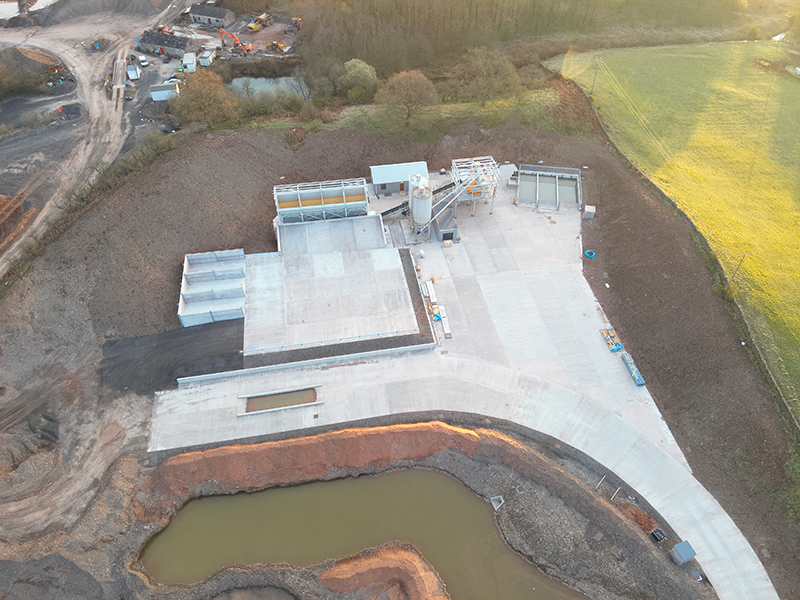 Rapid International Ltd (County Armagh, Northern Ireland) has recently supplied Hoddam Contracting Co Ltd with a new bespoke static concrete batching plant, located near Dumfries, Scotland. The plant is capable of production of up to 70m3 per hour of ready mixed concrete.
Hoddam Contracting Co. Ltd, a family-run business headquartered in the south of Scotland, has been serving the concrete industry for over seven decades. Also known as Hoddam Quarry and Concrete Products, this longstanding supplier has cemented its position as a leading provider of building materials in the region. Hoddam supplies a wide range of quarry materials, concrete products and services to the building, industrial, agricultural and domestic markets, including ready mixed concrete.
With two sand and gravel quarries already in operation they have just opened a hard rock quarry, and are well-positioned for growth in the area. In addition, their concrete production and head office facilities are situated in Ecclefechan, further strengthening their presence in the south of Scotland.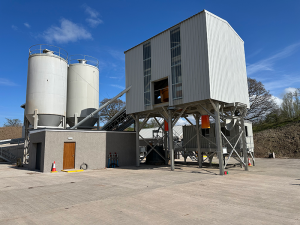 Addressing the need for an upgrade
As a long-standing customer, Hoddam had previously invested in three batching plants from Rapid. However, the existing batching plant at their Dumfries site, responsible for producing ready mixed concrete, had surpassed its two-decade service life and required a significant upgrade. 
The Rapid solution
Rapid worked closely with Hoddam to develop a solution that would optimise their concrete production process. Drawing inspiration from one of the company's existing batching plants located in Ecclefechan, Rapid proposed a similar design tailored to Hoddam's specific requirements.
The new plant has four 50 tonne aggregate hoppers, with integral 800mm weighed belt conveyor, which discharges onto a batch conveyor. This conveyor subsequently feeds the 3m3 output Rapid R300 pan mixer, which is housed in a fully sheeted mixer platform. The platform allows for maximum access for maintenance and cleaning, with mixer level and small upper access area at the cement weigh hopper. A dust extraction system is fitted to the mixer, to recycle dust for reuse in subsequent batches.
Readymix chutes are located under the mixer doors to direct the material into the truck mixers. The chutes are lined with 6mm Hardox plate to offer long wear. Moreover, a movable chute extension has been incorporated, allowing for greater flexibility in directing the concrete to different levels, such as trailers, catering to the requirements of collect customers.
Cement is stored in a 100 tonne storage silo, with screw conveyor, which conveys material from the silo to the weigh hopper. A 2 tonne cement/powder weigh hopper is included, which is mounted on loadcells with aeration pads and a vibrator to aid in discharging. The plant also features a twin compartment additive weigh system, which offers flexibility in additive batching.
To streamline mixer cleanout, the plant includes a Rapid Jetwash mixer washout system, fitted with 3 spray heads. The system operates at 2000 psi, offering high-pressure cleaning and maintenance of the mixer.
Enhanced Control and Productivity
The plant is fitted with a Pneutrol Dynamix batching control system, which enables the operator to oversee the entire batching process and offers unlimited recipe storage, manual control via the PC and remote operation.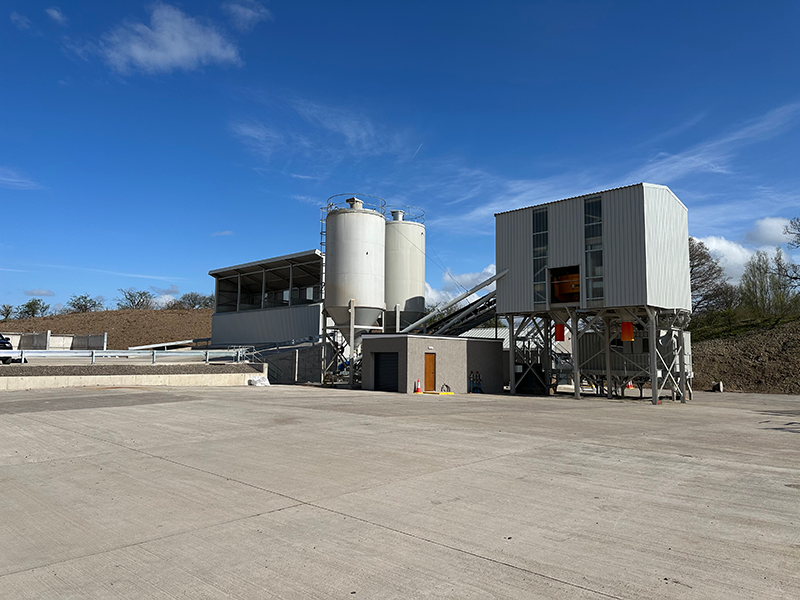 New plant doubles outputs
Commenting on the new plant's outputs, Laura Gilfillan, Director – Hoddam Contracting, said, "The new batching plant works a lot faster and batches more than twice as much per hour." She continued, "We find the whole Rapid team a pleasure to deal with, at all stages of the process, from Victor in sales through to Keith in installation. The build quality and overall service and aftercare is very good. We can just pick up the phone and speak to someone, which is invaluable."
For more information on how Rapid can provide a totally bespoke batching plant solution for your unique requirements, click/tap here.
Contact our team of mixing technology experts here.
Learn more about Hoddam Contracting Co, Ltd, here.