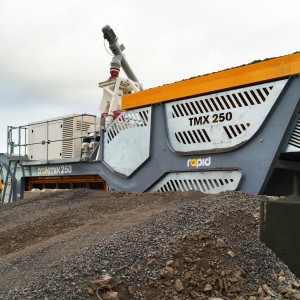 Tandragee, County Armagh, 20 November 2015 – The international launch of the Rapid Trakmix was marked by a week of events on November 9 – 12, at Cenin cement factory in Bridgend, South Wales. Cenin's headquarters provided optimal conditions for the series of concrete & hydraulically bound materials demonstrations using the company's highly sustainable, consistent range of cements. A variety of activities took place, including, demonstration of 'Cendri' in Ground stabilisation applications improving load bearing strengths in a variety of soil types. 'Cendri' is a process or pre mixed material used to improve material recovery and drastically improve screen productivity when handling wet materials. Attendees were also provided with tours of Cenin's ultra low carbon cement factory, laboratory and on site renewable energy resources. The open event was attended by a number of delegates from approximately 30 major concrete, construction and environmental companies.
Rapid's latest innovation, Trakmix, is a track mounted, totally mobile and self-contained, fully weighed high volume mixing plant. Trakmix was designed in response to the growing demand for a mobile continuous mixing plant which provides easy, cost effective transportation and eliminates the need for special transportational permits. Customer demand also indicated a need for a machine providing more options on outputs on a different platform, offering flexibility for a wide range of site types and applications.
Trakmix features a number of innovative, patent pending features, including a superior controls system that weighs all materials and double hopper cement weighing system. Other cutting-edge features include low friction surface lining on hoppers, bottom conveyor for easy cleanout and out-loading conveyor for easy discharge. Trakmix offers outputs of up to 250 tonnes per hour via a high volume continuous Rapid Twin Shaft mixer and 12.0m3 aggregate hopper, which includes a division plate for two different types of aggregates. The Rapid designed continuous twin-shaft mixer (pugmill) is the largest and fastest continuous mixer on the market, with specially phased shafts and paddles ensuring a homogenous mix for a variety of applications within the concrete, construction and environmental industries.
The Trakmix has been designed with ease of mobility and set up in mind. The machine possesses an entirely self-contained design mounted on tracks including on-board genset, providing mobile flexibility.
Full weighing capabilities are provided via an integral fully automated control system. Adjustable feeder gates from the aggregate bins are provided in addition to a variable speed belt feeder to aggregate weigh belt. Powders are fully weighed via a twin hopper system with twin-screw discharge and flow-meter provides metering of the water. An integral 600 litre water tank and provision for admixtures is also included.
Trakmix is recommended for applications where all types of binders or neutralising powders are required in the mixing process, including road construction, road paving, ground works/civil engineering, environmental stabilisation projects, aggregate recycling and many more.
Further UK mainland demonstrations are expected to take place in the new year. More information can be found at www.rapidinternational.com.
###
Notes to the Editor:
 Rapid International Ltd
Established in 1969, County Armagh based Rapid International delivers high quality, reliable equipment to the concrete, construction and environmental industries. Today, with a presence in more than twenty countries worldwide via an ever expanding international dealer network, Rapid is a trusted partner to a wide variety of customers ranging from multinational construction groups to small concrete producers.
RAPID IS A GLOBAL LEADER IN THE MANUFACTURING OF:
Pan, Planetary and Twin Shaft Concrete Mixers
Mobile Continuous Mixing Plant/Pugmills
Specialised Mobile Continuous Mixing Plant
Mobile/Fixed/Bespoke/Compact Batching Plants
High Pressure Mixer Washout Systems
Silos
Spare Parts
Rapid's vast experience over the last four decades ensures the highest quality design and manufacture of all equipment. Quality, reliability, efficiency and technological advancement are the greatest aims of Rapid's workforce, based at its impressive 50,000 sq ft production facility and headquarters in County Armagh, Northern Ireland. Always innovating, Rapid's emphasis on product development is driven by the needs of its wide reaching customer base, and the company's in-house technical team consistently strive to meet the demands of total quality while exceeding customers' expectations.
Contact Details:
Address: Rapid International Ltd, 96 Mullavilly Road, Portadown, Co Armagh. BT62 2LX
Telephone: +44 (0)28 38 840671
PR Contact: Kelly McCollum
Email: marketing@rapidinternational.com
Website: www.rapidinternational.com
Cenin Ltd
Cenin Cement is a British cement manufacturer supplying a highly sustainable and consistent range of cementitious products designed to produce a quality product with the lowest possible carbon footprint at a cost effective price.
Based in South Wales, Cenin Cement operates in a completely transparent manner in all areas and levels of its business with the values of a local family business.
Following over 20 years of research and development and industry experience, Cenin's cement products are manufactured using vigorous quality procedures supported by Cenin's patented advanced control system which ensures highly robust and consistent cementitious products.
Our cements are produced using traditional manufacturing methods thoroughly monitored by Cenin Cement's laboratory operated by a highly experienced team. This allows us to continually monitor our products and processes ensuring tight controls on quality and product consistency.
Ingrained into Cenin Cement is the aim to deliver value to its customers by manufacturing high quality, incredibly consistent low carbon cementitious products and thus improving the quality and economics of our customers' final concrete products.
 Contact Details
Address: Cenin Limited, The Research Centre, Parc Stormy, Stormydown, Bridgend. CF33 4RS.
Telephone: +44 (0)1656 789970
PR Contact: Richard Stroud
Email: richard.stroud@cenin.co.uk
Website: www.cenin.co.uk