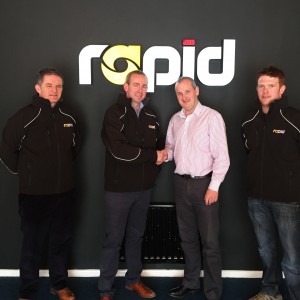 County Armagh, Northern Ireland, 21 April 2016 – Rapid International Ltd's continuing aim to grow market share within the UK and Ireland has been bolstered by the recent addition of Ormonde Machinery Ltd to its dealer network. Headquartered in Kilkenny, Ormonde Machinery strive to offer quality customer service and a truly personalised approach to machinery solutions. Ormonde has assumed the role of officially appointed dealer representative for Rapid machinery in the Republic of Ireland with immediate effect.
Jarlath Gilmore, Sales and Marketing Director at Rapid commented on the recent Ormonde Machinery dealer appointment, "We are delighted to welcome Conal and the Ormonde Machinery team to the Rapid dealer network. We feel Ormonde have the right experience in key areas to help us develop sales in Southern Ireland. "
Established in 1969, Rapid is recognised as one of the world's leading manufacturers of equipment for the concrete, construction and environmental industries. Rapid's pioneering mixing technology is present in upwards of 1000 installations in over 30 countries worldwide.
Rapid is the manufacturer of choice for many of the major global concrete and construction groups and is proud to have supplied equipment to Hanson Heidelberg, Holcim, Lafarge, Cemex, Ferrovial, Bam Nuttall, Arcelor Mittal, Aggregate Industries and many more.
Rapid's products range is manufactured at a state of the art 50,000 square foot manufacturing facility in County Armagh, Northern Ireland. The company is proud to power its facilities with 100% green energy via an onsite wind turbine. Rapid's product offering includes pan, planetary and twin shaft concrete mixers, static and mobile batching plant, wheel/track mounted continuous mixing plant and spare parts. All machinery is designed in house by a talented team of design engineers and manufactured using the latest equipment from internationally renowned brands.
Commenting on their recent appointment, Conal Mullan, General Manager at Ormonde Machinery said "This is a welcome addition to our product offering and are delighted to be representing Rapid International in Ireland. Given the continued recovery in the construction sector, we expect to see strong demand for this type of equipment in the coming years. "
Ormonde Machinery is a leading supplier of construction, mining, quarrying and recycling equipment.  Ormonde's SME status provides the opportunity for an agile and fast paced approach to meeting customer requirements. The company is specialised in the field of materials processing equipment and have been an officially appointed dealer for leading manufacturer Terex Finlay since 2000.
For Rapid sales enquiries within the ROI, please contact Ormonde Machinery on +353 (0) 56 7777401 or visit www.ormondemachinery.com.
Image Caption: Pictured left to right: Raymond Murphy (Ormonde Machinery), Conal Mullan (Ormonde Machinery), Jarlath Gilmore (Rapid), Sean Keane (Ormonde Machinery)
###
Notes to the Editor:
Rapid International Ltd
Established in 1969, County Armagh based Rapid International delivers high quality, reliable equipment to the concrete, construction and environmental industries. Today, with a presence in more than twenty countries worldwide via an ever expanding international dealer network, Rapid is a trusted partner to a wide variety of customers ranging from multinational construction groups to small concrete producers.
RAPID IS A GLOBAL LEADER IN THE MANUFACTURING OF:
Pan, Planetary and Twin Shaft Concrete Mixers
Mobile Continuous Mixing Plant/Pugmills
Specialised Mobile Continuous Mixing Plant
Mobile/Fixed/Bespoke/Compact Batching Plants
High Pressure Mixer Washout Systems
Silos
Spare Parts
Rapid's vast experience over the last four decades ensures the highest quality design and manufacture of all equipment. Quality, reliability, efficiency and technological advancement are the greatest aims of Rapid's workforce, based at its impressive 50,000 sq ft production facility and headquarters in County Armagh, Northern Ireland. Always innovating, Rapid's emphasis on product development is driven by the needs of its wide reaching customer base, and the company's in-house technical team consistently strive to meet the demands of total quality while exceeding customers' expectations.
Contact Details:
Address: Rapid International Ltd, 96 Mullavilly Road, Portadown, Co Armagh. BT62 2LX
Telephone: 028 38 840671
PR Contact: Kelly McCollum
Email: marketing@rapidinternational.com
Website: www.rapidinternational.com
Ormonde Machinery
Ormonde Machinery is a leading provider of quality construction, mining, quarrying and recycling equipment. The company supplies a wide range of equipment to the construction industry to satisfy the demands of a growing customer base.
Ormonde prides itself on being a flexible and easy to deal with company focused on providing customers with the best equipment option to suit their business needs. The company are specialised in the field of materials processing equipment from leading manufacturer Terex Finlay and have established a strong name and market presence over the past number of years.
Ormonde Machinery recognise the need to move with market demands and to this end have in conjunction with our manufacturing partner Terex come up with cost effective solutions to assist our customers continue to invest in new equipment and develop their businesses in a positive way.
Being an SME business the company can respond quickly to requests whether it be for a small part or a detailed quotation for a set of new equipment. Since being appointed as a Terex Finlay dealer in 2000, the company continues to provide a top class service to customers both before and after point of sale. Technical support is an opportunity to prove the commitment we have to our customers and every opportunity to interact is welcome.
Ormonde Machinery operates from a modern office unit at the Cillin Hill Centre in Kilkenny and also from its yard at Dublin Rd, Borris In Ossory, Co. Laois.
The company rebranded in December 2012 from Finlay Hydrascreens (Southern) Ltd to the new name Ormonde Machinery Ltd.
Contact Details:
Address: Unit 7, First Floor, Cillin Hill, Dublin Rd, Kilkenny, Ireland.
Telephone: +353 (0) 56 7777401
Main Contact: Conal Mullan
Email: conal@ormondemachinery.com
PR Contact: Kathy Purcell
Email: kathy@ormondemachinery.com
Website: www.ormondemachinery.com