Pavement Recycling Systems Invests in New Rapidmix 400CW for New RCC Projects after Successful Lease Trial.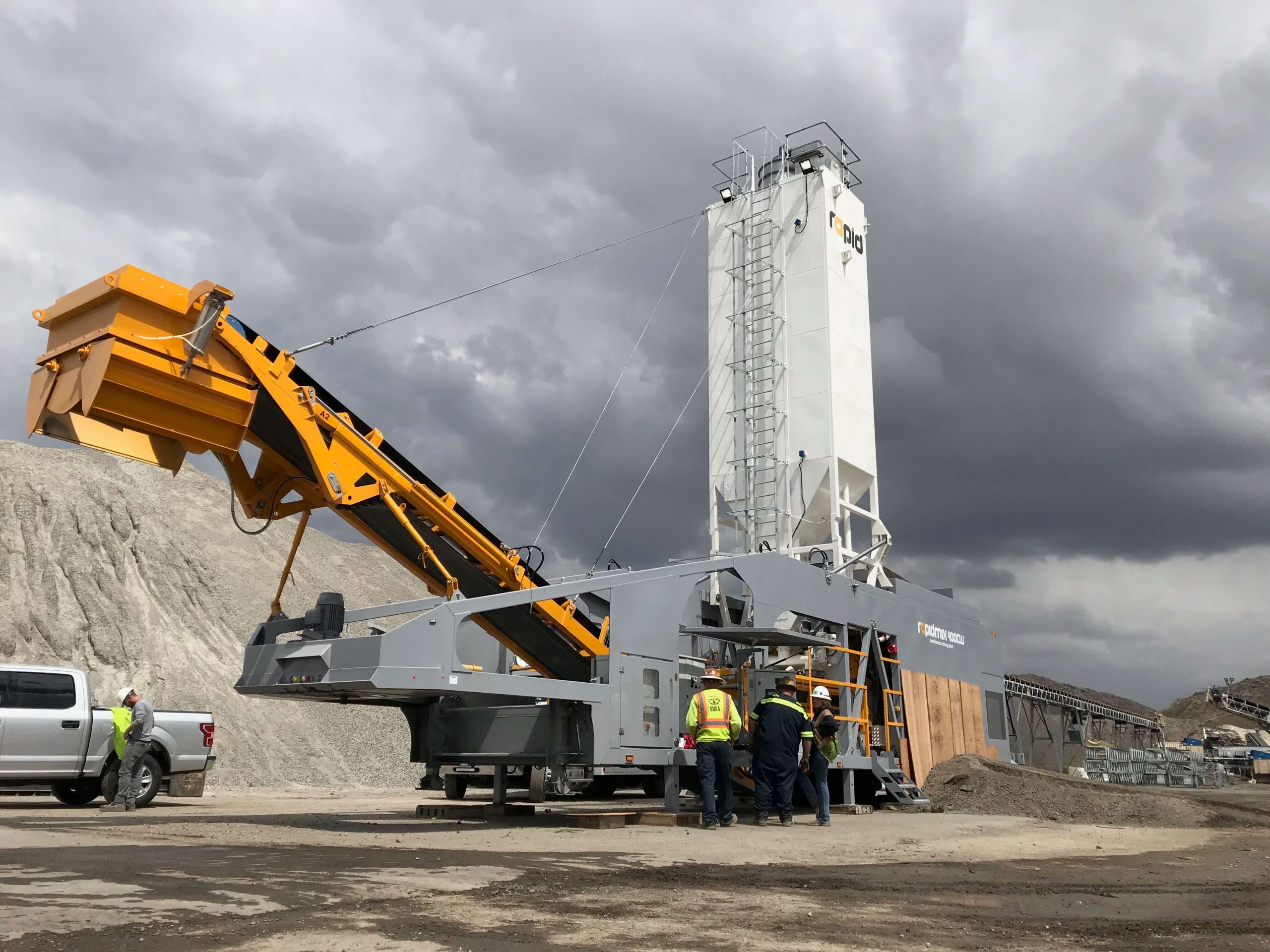 County Armagh, Northern Ireland, 1 April 2020 – Rapid International Ltd recently commissioned a new Rapidmix 400CW, fully weighed, mobile continuous mixing plant (pugmill) for Pavement Recycling Systems. The new Rapidmix is being utilised initially for the production of RCC (roller compacted concrete) for a US port project. The Rapidmix will also be involved in the production of RCC and various other materials for future projects across California and other Western US States.
About Pavement Recycling Systems                                                     
Established in 1989, California-based Pavement Recycling Systems, is a 100% employee owned company specialising in state-of-the art recycling solutions to reclaim, preserve and rehabilitate pavement at any stage. Pavement Recycling System's goal is to reduce the environmental impact of paving, while simultaneously improving quality and reducing costs.
A New System Required                                                                                   
After securing its first RCC project, Pavement Recycling Systems identified a requirement for a mobile continuous mixing plant solution. After learning of a global building materials group's experience in similar projects with the volumetric version of the Rapidmix 400 mobile continuous mixing plant, Pavement Recycling Systems made the decision to initially rent their plant on trial basis.
Having learned the capabilities of the Rapidmix plant during the rental period, and wanting to take full advantage of the weighing technology of newer Rapidmix plants, Pavement Recycling Systems subsequently made the decision to purchase a new Rapidmix 400CW fully weighed, mobile continuous mixing plant for their 'Renew" division. The company's intention was to use it initially for the port project and also for future planned RCC and other mixing projects throughout their area of operation.
 Rapidmix and RCC                                                                                             
The production process for RCC involves the Rapidmix receiving aggregates from the plant's aggregate hopper via the weighed conveyor belt, along with a specified weighed amount of cement from the onboard silo. This is subsequently mixed in the onboard pugmill and loaded into trucks via the machine's outloading conveyor. The cement treated aggregates are finally loaded into compaction pavers and laid at 94% compaction. Compacting rollers are finally used to further compact the material to 98%.
Shortly after it is laid, the RCC is sufficiently strong enough to support traffic and further operations all the way to the edge of the step.
About Rapidmix                                                                                                   
The Rapidmix 400CW/600CW is a mobile continuous mixing plant/ pugmill offering full weighing of all materials and is specifically designed for semi-dry mixing applications.
Fully mobile and self-contained, the Rapidmix 400CW is a complete plant powered by its own power source, with on-board compressor and generator. Fitted with a self-erecting system, using hydraulics, the plant can change from travel mode to fully operational within a few hours. Available with outputs of up to 600 tonnes per hour, the Rapidmix provides feed rates that are fully adjustable for the aggregate, cement and water systems.
The Rapidmix 400CW plant produces controlled mixtures for utilisation in a range of applications, including RCC (Roller Compacted Concrete), CTB (Cement Treated Base), soil stabilisation, soil cement, bentonite, marine dredging, mine backfill and many more. The mobile nature of the plant combined with the technically advanced design, is most advantageous in meeting the supply and demand requirements on projects. Rapidmix provides a cost effective solution for on-site projects where high specification compliance coupled with a high volume fast throughput are essential.
###
Learn more about Rapidmix here.