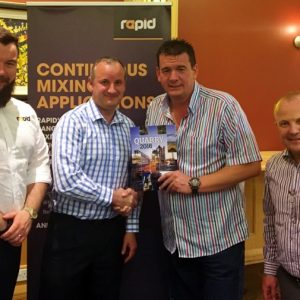 County Armagh, Northern Ireland, 19 May 2017 – Rapid International Ltd, machinery manufacturers to the concrete, construction and environmental industries, is pleased to announce its recent affiliate membership with the Quarry Products Association Northern Ireland (QPANI). QPANI is the official trade association for the aggregates and quarry products industry in Northern Ireland, its primary aim is to provide a secure and socially responsible future for the aggregates industry. QPANI is affiliated to the larger Mineral Products Association (MPA), which encompasses aggregates, asphalt, cement, concrete, dimension stone, lime, mortar and silica sand industries. Through QPANI, Rapid look forward to building and maintaining strong relationships with key contacts in quarrying across Northern Ireland.
One of the primary driving forces behind Rapid's decision to join QPANI was the introduction of the association's new 'Concrete Built IS Better Built' initiative. The concrete products industry is a vital component in the Northern Ireland construction industry, which employs 80,000 people and is worth £2.4billion to the local economy. As part of its initiative, QPANI has established a new Concrete Development Group with the sole aim of raising the market share of concrete in the wider construction industry and making it the construction material of choice.
To show support to the initiative, Rapid will be carrying the new 'Concrete Built is Better Built' logo on its concrete mixers, Rapidmix/ Trakmix mobile continuous mixing plant and Rapidbatch/ Transbatch mobile batching plant.Commenting on its affiliate membership, Jarlath Gilmore, Sales and Marketing Director – Rapid, said, "Rapid is delighted to be joining QPANI and getting further involved locally with our fellow industry members and also hoping to open up links to wider markets. We are fully supporting the Concrete Built is Better Built initiative and hope that it will enhance the positive message that local concrete producers and concrete equipment manufacturers offer premium quality."
Established in 1969 and based in Tandragee, Country Armagh, Rapid International manufactures a wide range of equipment for the concrete, construction and environmental industries. Rapid's portfolio includes the Rapidmix 400/600 mobile continuous mixing plant, Trakmix track mounted continuous mixing plant, Rapidbatch mobile batching plant, Transbatch compact mobile batching plant, Rapid Pan, Planetary and Twin Shaft concrete mixers, Jetwash high-pressure mixer washout system and in-house manufactured spare parts. This comprehensive range of equipment is manufactured exclusively at Rapid's purpose built 50,000 square foot manufacturing facility, where every aspect of design and production is stringently controlled. Rapid's range of equipment is utilised by many of the world's leading construction and concrete groups and is present in over twenty countries via a strong network of dealer representatives.
All concrete manufacturers across Northern Ireland are invited to join QPANI in their 'Concrete Built IS Better Built Strategy', as the association strives to increase market share for concrete products and make concrete the construction material of choice.
###
Notes to the Editor:
Rapid International Ltd
Established in 1969, County Armagh based Rapid International delivers high quality, reliable equipment to the concrete, construction and environmental industries. Today, with a presence in more than twenty countries worldwide via an ever expanding international dealer network, Rapid is a trusted partner to a wide variety of customers ranging from multinational construction groups to small concrete producers.
RAPID IS A GLOBAL LEADER IN THE MANUFACTURING OF:
Pan, Planetary and Twin Shaft Concrete Mixers
Mobile Continuous Mixing Plant/Pugmills
Specialised Mobile Continuous Mixing Plant
Mobile/Fixed/Bespoke/Compact Batching Plants
High Pressure Mixer Washout Systems
Silos
Spare Parts
Rapid's vast experience over the last four decades ensures the highest quality design and manufacture of all equipment. Quality, reliability, efficiency and technological advancement are the greatest aims of Rapid's workforce, based at its impressive 50,000 sq ft production facility and headquarters in County Armagh, Northern Ireland. Always innovating, Rapid's emphasis on product development is driven by the needs of its wide reaching customer base, and the company's in-house technical team consistently strive to meet the demands of total quality while exceeding customers' expectations.
Contact Details:
Address: Rapid International Ltd, 96 Mullavilly Road, Portadown, Co Armagh. BT62 2LX
Telephone: 028 38 840671
PR Contact: Kelly McCollum
Email: marketing@rapidinternational.com
Website: www.rapidinternational.com