Rapid Trakmix Enables Ex-Situ Soil Stabilisation for Shannon Valley Group.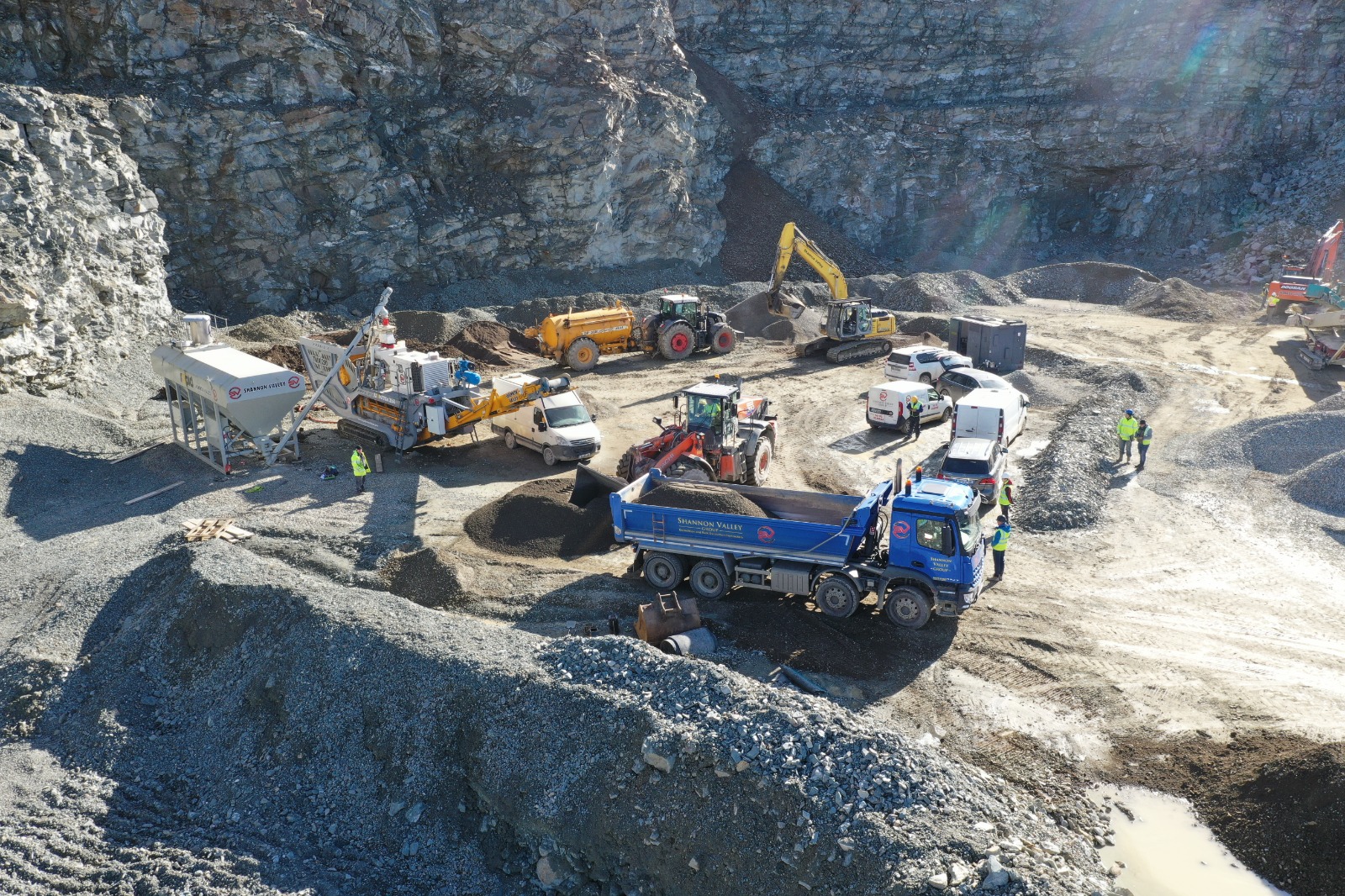 Shannon Valley Group, one of Ireland's leading civil engineering contractors, has recently invested in the Rapid Trakmix, track-mounted mobile continuous mixing plant, in response to a growing demand for ex-situ soil stabilisation projects.
Established in 1991 and headquartered in Drumshanbo, County Leitrim, the Group's services include groundworks & civil engineering, commercial & housing site developments, controlled demolition, environmental and recycling.
Growing demand for carbon-footprint reducing technologies
Trakmix is a valuable new addition to Shannon Valley's impressive fleet of machinery. The new Trakmix continuous mixing plant offers total mobile flexibility, via an entirely self-contained and track-mounted unit. This enables the company to undertake remote location projects with ease and meet the growing demand for eco-friendly projects.
Ex-situ soil stabilisation is the process by which binders are used to geotechnically improve weak soils for construction purposes. This process in turn produces a viable construction material, suitable for reuse. Stabilised soils are often used as subbase for paving. Stabilisation increases the stability, impermeability, and load-bearing capacity of the subbase.
Excavated screened material is mixed with the appropriate binder (cement, lime etc) in the Rapid Trakmix's integral continuous mixer. The Trakmix's aggressive, high velocity mixing action, combined with full weighing of all materials, ensures fully homogeneous outputs. Treated material is then placed in its final point of deposition or stockpiled to cure before being finally deposited.
Ex-situ soil stabilisation offers more efficient use of raw materials, limiting waste disposal and the use of virgin materials. As one of Ireland's most progressive civil engineering groups, Shannon Valley Group are the first in market to offer ex-situ soil stabilisation using a mobile continuous mixing plant.
Rapid Trakmix offers competitive advantage – cost efficiency and speed
Commenting on the Rapid Trakmix's capabilities, Michael English, director – Shannon Valley Group, remarked, "We are always on the lookout for new technology. If there is a better way of doing things, we want to be the first on the market to offer this solution to our clients. It's simple, with Rapid we get a job done faster and cheaper than our competitors. Mixing weak soils with binders for reuse on-site provide cost savings compared to traditional aggregates and muckaway method. Our experience with the Rapid Trakmix 250 has been very positive so far. We are currently processing boulder clay material. We may not be getting 250TPH, because it's a difficult material to work with as it needs screening prior to treatment, but it still saves us time on the programme."
Innovative, high-volume, track-mounted mixing technology
Trakmix, is an innovative track mounted, totally mobile and self-contained, fully-weighed high volume mixing plant offering outputs of up to 250 tonnes per hour. Trakmix is recommended for applications where all varieties of binders or neutralising powders are required in the mixing process, including road construction, road paving, ground works/civil engineering, environmental stabilisation projects, aggregate recycling and many more.
Demand for a different platform, offering more flexibility
Trakmix was designed in response to the growing demand for a mobile continuous mixing plant which provides easy, cost effective transportation and eliminates the need for special transportation permits. Customer demand also indicated a need for mixing technology providing more options on outputs on a different platform, offering flexibility for a wide range of site types and applications.
Trakmix offers ease of mobility and fast set-up
The addition of the Trakmix, track-mounted mobile continuous mixing plant, to the company's fleet, offers much needed ease of mobility and set up from project site-to-site. The machine possesses an entirely self-contained design mounted on tracks, including on-board genset, providing mobile flexibility. Trakmix can be set up in minutes via remote control.
Features
Trakmix includes a number of innovative features, including, a superior controls system offering weighing of all materials and a double hopper cement weighing system. Other cutting-edge features include low-friction surface lining on hoppers, bottom conveyor for easy clean out and out-loading conveyor for easy discharge.
Integral Rapid pugmill largest and fastest on the market
Trakmix offers outputs of up to 250 tonnes per hour via a high-volume continuous Rapid twin shaft mixer and 12.0m3 aggregate hopper, including a division plate for two different types of aggregates. The Rapid designed continuous twin-shaft mixer (pugmill) is the largest and fastest continuous mixer on the market, with specially phased shafts and paddles ensuring a homogenous mix for a variety of applications within the concrete, construction and environmental industries.
Full weighing of all materials
Trakmix features full weighing capabilities via an integral fully automated control system. Adjustable feeder gates from the aggregate bins are provided in addition to a variable speed belt feeder to aggregate weigh belt. Powders are fully weighed via a twin hopper system with twin-screw discharge and flow-meter provides metering of the water. An integral 600 litre water tank and provision for admixtures is also included.
Learn more about Trakmix here.