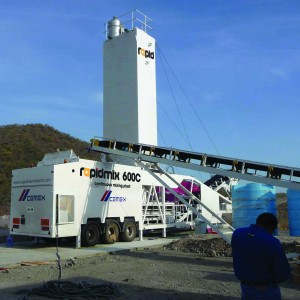 CEMEX Paving Solutions recently took delivery of a new RAPIDMIX400CW, the high volume mobile continuous mixing plant manufactured by County Armagh based Rapid International Limited. The plant was sold in partnership with leading machinery dealers DUO plc.  The new RAPIDMIX400CW extends the capabilities for the CEMEX division to deliver so much more on projects.
Fully mobile and self contained, the Rapidmix400CW offers a complete plant powered by its own power source, with on-board compressor and generator. Fitted with a self erecting system, using hydraulics, the plant can change from travel mode to fully operational within a few hours. The Rapidmix 400 CW mixes up to 400 Tonnes per hour depending on application and provides feed rates that are fully adjustable for the aggregate, cement and water systems.
The recently updated unit incorporates full weighing options for all materials – aggregates, cement and water, which means the new generation Rapidmix 400 CW offers record keeping that is automated, precise and detailed. The Rapidmix is an ideal solution for a wide variety of applications, including – Roller compacted concrete (RCC), Cement Bound Materials (CBM), Bentonite Enriched Soils, Coldmix bitumen emulsions, Contaminated Land Treatment and  Recycled Asphalt Paving (RAP).
James Playford Business Development Manager CEMEX Paving Solutions  says;  "With the increase in use of cementitious materials such as roller compacted concrete the new Rapidmix 400CW from Rapid International was the ideal choice for CEMEX UK. The machine offers CEMEX UK multiple benefits including low operating costs, excellent mobility and high outputs to meet the challenging demands of today's projects. The addition of the Rapidmix 400CW will undoubtedly help CEMEX deliver best value to all our clients."
Alex Moss Managing Director DUO plc quote: "DUO have been delighted to make this deal happen in partnership with CEMEX"
###
Notes to Editor:
Established in 1969, Northern Ireland based Rapid International manufacturers high quality machinery to the concrete, construction and environmental sectors. With a presence in over 20 countries the company offer pan, planetary and twin-shaft mixers, as well mobile batching plants, mobile continuous mixing plants,  bespoke concrete plants and cement silos.
CEMEX Paving Solutions Ltd. is a leading UK surfacing contractor specialising in schemes from major highways and airfield surfacing to business parks, car parks, storage and materials handling depots.
Based in Coventry DUO plc provide a comprehensive package of solutions for the 'Quarrying, Aggregate Recycling & Handling Industries'. DUO are dealers in both the UK and Africa for some of the industry's leading manufacturers and are able to offer everything from individual plant to bespoke design turnkey solutions for washing, screening, crushing and aggregate recycling equipment.
Contact Details:
Address: Rapid International Ltd, 96 Mullavilly Road, Portadown, Co Armagh. BT62 2LX
Telephone: 028 38 840671
PR Contact: Lesley Bell
Email: marketing@rapidinternational.com
Website: www.rapidinternational.com