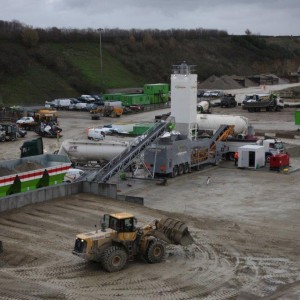 County Armagh, Northern Ireland, 25 February 2016 – Rapid International Ltd (County Armagh) has recently supplied Kent based Gallagher Group with a new Rapidmix 400CW mobile continuous concrete mixing plant. The Rapidmix machine is operated primarily at the group's Hermitage Quarry site and is also utilised on location if haulage presents an issue.
Established in 1973, privately owned Gallagher Group is one of Kent's leading Building, Civil Engineering, Aggregates and Property Development companies. Having previously purchased a 3m3 Rapid pan concrete mixer for installation in a concrete batching plant system, the company was already confident in Rapid's concrete mixing technology capabilities.
Gallagher's Rapidmix plant is employed in the production of the company's 'Gallapave' range of HBM (Hydraulically Bound Material) and RCC (Roller Compacted Concrete). HBM is used as sub-base and base course to replace traditional capping layer, type 1 sub-base and tarmacadam base course in road construction. The benefit of HBM is the reduction in road digging. This is in turn leads to reduced costs as less soil requires excavation and transportation to landfill. In addition, Geotextile membrane isn't required. RCC is a semi dry concrete product that is a wearing surface used where strong pavement is required to stand up to massive loads and specialised equipment. Airport runways and aprons are particularly suited to RCC. RCC is also typically used for parking, storage and warehouse floors, container storage & handling, port pavements. RCC offers high flexural strength, doesn't require forms or finishing and is fast and economical to produce.
Commenting on their purchase, Gallagher Group said, "With the Rapidmix 400CW we are using the waste fines from our fixed primary crushing plant for our HBM products, saving dump trucks moving fines and space in our landfill. The Rapidmix 400CW is a well-built piece of equipment but as with every piece of new equipment there is always minor initial teething problems. The customer service that Rapid International gave was second to none, most queries were resolved over the phone with the remote login access from head office in Northern Ireland."
Victor Pickering, Rapid Sales – UK Mainland, remarked, "Rapid is delighted to have partnered with Gallagher Group on the purchase of the Rapidmix 400CW. The new Rapidmix has afforded Gallagher Group the opportunity to profit from its previously redundant waste fines and in turn broaden their supply of new materials, opening new market channels."
Semi dry mixes, such as HBM and RCC, are typically less economical to produce in a conventional static concrete batch plant. The Rapidmix mobile continuous mixing plant solves this problem as it is specifically designed for semi dry mixes, ensuring a high output of high quality homogenous material at all times. The on board high speed Rapid Twin Shaft mixer contains chill cast steel mixing paddles which are intermeshed in a specially phased relationship to optimise mixing action, whilst maximising throughput.
The new Rapidmix 400CW plant produces high quality controlled mixtures for utilisation in a range of Civil Engineering applications – from airport runways and contaminated land treatment to dam construction and soil stabilisation. The mobile nature of the plant combined with the technically advanced design is most advantageous in meeting the supply and demand requirements on projects. The Rapidmix 400CW provides a cost effective solution for projects where high specification compliance coupled with a high volume fast throughput are critical.
Fully mobile and self-contained, the Rapidmix 400CW from Rapid International offers a complete plant powered by its own power source, with on-board compressor and generator. Fitted with a self-erecting system, using hydraulics, the plant can change from travel mode to fully operational within a few hours. Available with outputs of up to 600 tonnes per hour, the Rapidmix provides feed rates that are fully adjustable for the aggregate, cement and water systems.
The recently updated unit incorporates full weighing options for all materials – aggregates, cement and water – which means the new generation Rapidmix 400 CW offers record keeping that is automated, precise and detailed.
###
Notes to the Editor:
Rapid International Ltd
Established in 1969, County Armagh based Rapid International delivers high quality, reliable equipment to the concrete, construction and environmental industries. Today, with a presence in more than twenty countries worldwide via an ever expanding international dealer network, Rapid is a trusted partner to a wide variety of customers ranging from multinational construction groups to small concrete producers.
RAPID IS A GLOBAL LEADER IN THE MANUFACTURING OF:
Pan, Planetary and Twin Shaft Concrete Mixers
Mobile Continuous Mixing Plant/Pugmills
Specialised Mobile Continuous Mixing Plant
Mobile/Fixed/Bespoke/Compact Batching Plants
High Pressure Mixer Washout Systems
Silos
Spare Parts
Rapid's vast experience over the last four decades ensures the highest quality design and manufacture of all equipment. Quality, reliability, efficiency and technological advancement are the greatest aims of Rapid's workforce, based at its impressive 50,000 sq ft production facility and headquarters in County Armagh, Northern Ireland. Always innovating, Rapid's emphasis on product development is driven by the needs of its wide reaching customer base, and the company's in-house technical team consistently strive to meet the demands of total quality while exceeding customers' expectations.
Contact Details:
Address: Rapid International Ltd, 96 Mullavilly Road, Portadown, Co Armagh. BT62 2LX
Telephone: 028 38 840671
PR Contact: Kelly McCollum
Email: marketing@rapidinternational.com
Website: www.rapidinternational.com
Gallagher Group
Gallagher Group is one of Kent's premier Building, Civil Engineering, Aggregates and Property Development companies, Gallagher is passionate about providing the highest standards in everything they do. The company's focus is on delivery – they are fast, efficient and reliable.
Gallagher Group have an enviable reputation built over 40 years, with the efforts and imagination of a dedicated team of managers, technicians and operatives who are supported by investment in the best plant and equipment. The company builds lasting relationships with its clients, suppliers and other stakeholders.
Gallagher Group strive to improve the environment in which they are proud to live and work, continually ensuring effective management of its own impact on the environment, preventing pollution and reducing any adverse consequences of the Group's activities.
Gallagher Group has a unique mix of distinct but complementary services
Building
Civil engineering
Plant and Transport
Construction materials (primary and recycled)
Ready mix concrete
Landfill and restoration
Property development
Farming and estate management
Contact Details:
Address: Gallagher Group, Leitrim House, Little Preston, Aylesford, Kent, ME20 7NS.
Telephone: 01622 716543
PR Contact: Ian Westlake
Email: info@gallagher-group.co.uk
Website: www.gallagher-group.co.uk