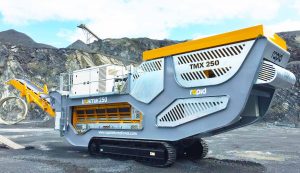 Join us at the Balmoral Show and Hillhead exhibition, this summer 2018, where the Trakmix track-mounted mobile continuous concrete mixing plant will be on display. Rapid representatives will be on hand to answer all your mixing technology questions.
Rapid's latest innovation, Trakmix, is a track-mounted, totally mobile and self-contained, fully-weighed high volume concrete mixing plant. Featuring outputs of up to 250TPH, a high volume continuous twin-shaft mixer and 12m3 aggregate hopper, Trakmix is ideal for a wide variety of applications, including, but not limited to:
Road construction / road paving
Lean mix based concrete
Soil stabilisation / soil recycling
Recycling asphalts / recycling concrete
Pavement quality concrete
Bitumen based emulsion mixes
Contaminated land treatment
Specialist mixing applications
Visit Rapid at:
Balmoral Show – Stand C25, 16-19 May 2018, Eikon Exhibition Centre, Lisburn, Northern Ireland.
Hillhead Exhibition – Stand C19, 26-28 June 2018, Hillhead Quarry, Buxton, UK.