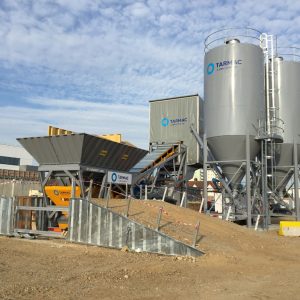 The Rapid Transbatch is another illustration of Rapid's forty years of mixing technology expertise and expands its celebrated existing portfolio of mobile batching solutions. Rapid's Transbatch compact mobile concrete batching plant offers outputs ranging from 40m3 to 100m3 per hour. Fully mobile, the Transbatch features stairs and access walkways which fold and dismantle for transport in a single load road towable unit. Fast set up in as little as five days with no foundation requirements helps to ensure that project timescales are met.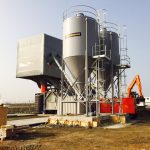 As standard, Transbatch features four 10m3 aggregate bins with pneumatic discharge doors, a 1000mm weighing belt and a 1750kg cement weigh hopper with aeration and pneumatic vibrator. Transbatch includes a built-in control room positioned at the truck loading area and an automatic control system with load cells starter panel and pneumatics panel. Twin additive meters with two pumps are also included with the plant, with the option to add extras if required.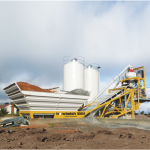 The heart of the plant, Rapid's powerful built-in twin shaft concrete mixer, which includes extra thick long wearing chill cast tiles and paddles, ensures a thoroughly homogenised mix.  The twin shaft includes an easy to operate discharge door with two independent hydraulic rams.
As a result of its ease of mobility, Transbatch is ideal for remote location projects and construction projects such as, but not limited to, road building, wind farm bases and warehouse flooring.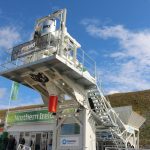 Customer feedback drives every aspect of Rapid's commercial activity. Below is just a small sample of some of the positive feedback Rapid has received from delighted Transbatch customers.
"The Transbatch 100 was selected for its high output but highly mobile design, enabling us to quickly and cost-effectively relocate the plant as and when required to take advantage of key market opportunities and provide unrivalled customer service."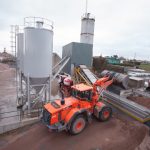 "The end client was very interested in the ultra-mobile concept as the batching plant has to move to a different location mid-project. They needed, however, to meet the 80m3 per hour requirements of their contractors. This was an opportunity to bolster the ultra-mobile fleet with a Rapid Transbatch 100M, capable of producing 100m3 per hour while offering a solution to the project build. The plant was manufactured to order and the site solutions team managed the installation within three months – fantastic!"
"Rapid's Transbatch has provided us with an excellent solution for our concrete batching requirements. Its high-quality compact design, ease of mobility and fast set up have made it a superb choice. We are pleased to have yet again worked with Rapid and can attest to their professionalism and customer-focused can-do approach"
Next Steps: