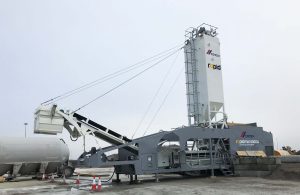 Rapid International Ltd (County Armagh, Northern Ireland) has recently supplied CEMEX UK with a new Rapidmix 600CW mobile continuous concrete mixing plant / pugmill for production of cementitious mixes including Roller Compacted Concrete (RCC) and Cement Bound Granular Material (CBGM) at various sites.
CEMEX is a global manufacturer of building materials and the biggest Mexican investor in the UK, with 3,000 people employed across 450 sites nationwide. CEMEX is one of the UK's leading providers of aggregates, cement, ready-mixed concrete and rail sleepers, with annual sales of around £1 billion.
Second Rapidmix for CEMEX.
The latest Rapidmix 600CW is the second Rapidmix to be added to Cemex's UK fleet in recent years. In 2014, the company purchased a Rapidmix 400CW to extend its capabilities in cementious materials, at the time commenting that, "the new Rapidmix 400CW from Rapid International was the ideal choice for CEMEX UK. The machine offers CEMEX UK multiple benefits including low operating costs, excellent mobility and high outputs to meet the challenging demands of today's projects. The addition of the Rapidmix 400CW will undoubtedly help CEMEX deliver best value to all our clients."
Speed of Mixing – Key Consideration.
CEMEX'S new Rapidmix 600CW mobile continuous concrete mixing plant is to be utilised for a wide range of applications throughout the UK, including, a Veolia UK composting facility in Nottingham and an Able UK port development in Killingholme. Due to the large scale nature of the company's projects, CEMEX's key plant considerations included, speed of mixing and mobilisation. Discussing this further, James Playford – Cementitious Business Manager – CEMEX Paving Solutions, stated, "The speed of mixing is most important as we need to lay large quantities of material and (especially for RCC) the speed of installation is key to ensure the workmanship of the finished product is suitable. The mobility and design of the machine are the important bit for us. We need to be able to move and mobilise a high production plant very quickly and the Rapidmix 600CW, is a great asset to achieve this."
Improved Storage Capacities.
Fully mobile and self-contained, the Rapidmix 600CW is a complete plant powered by its own power source, with on-board compressor and generator. Fitted with a self-erecting system, using hydraulics, the plant can change from travel mode to fully operational within a few hours. Featuring outputs of up to 600 tonnes per hour, the Rapidmix provides feed rates that are fully adjustable for the aggregate, cement and water systems. With the addition of optional cold feed bins, CEMEX's storage capacities were improved and the company also benefitted from the option of utilising a third aggregate.
About Rapidmix.
The Rapidmix 600CW plant produces high quality controlled mixtures for utilisation in a range of applications – from airport runways and contaminated land treatment to dam construction and soil stabilisation. The mobile nature of the plant combined with the technically advanced design, is most advantageous in meeting the supply and demand requirements on projects. The Rapidmix provides a cost effective solution for on-site projects where high specification compliance coupled with a high volume fast throughput are essential.
The Rapidmix 600CW incorporates full weighing options for all materials – aggregates, cement and water – offering record keeping that is automated, precise and detailed.
###
Notes to the Editor:
Rapid International Ltd
Established in 1969, County Armagh based Rapid International delivers high quality, reliable equipment to the concrete, construction and environmental industries. Today, with a presence in more than twenty countries worldwide via an ever expanding international dealer network, Rapid is a trusted partner to a wide variety of customers ranging from multinational construction groups to small concrete producers.
RAPID IS A GLOBAL LEADER IN THE MANUFACTURING OF:
• Pan, Planetary and Twin Shaft Concrete Mixers
• Mobile Continuous Concrete Mixing Plant/Pugmills
• Specialised Mobile Continuous Concrete Mixing Plant
• Mobile/Fixed/Bespoke/Compact Concrete Batching Plants
• High Pressure Mixer Washout Systems
• Silos
• Spare Parts
Rapid's vast experience over the last four decades ensures the highest quality design and manufacture of all equipment. Quality, reliability, efficiency and technological advancement are the greatest aims of Rapid's workforce, based at its impressive 50,000 sq ft production facility and headquarters in County Armagh, Northern Ireland. Always innovating, Rapid's emphasis on product development is driven by the needs of its wide reaching customer base, and the company's in-house technical team consistently strive to meet the demands of total quality while exceeding customers' expectations.
Contact Details:
Address: Rapid International Ltd, 96 Mullavilly Road, Portadown, Co Armagh. BT62 2LX
Telephone: 028 38 840671
PR Contact: Kelly McCollum
Email: marketing@rapidinternational.com
Website: www.rapidinternational.com